In the News
Cypress Bend Vineyards | NC Weekend | UNC-TV
Friday can hardly come fast enough for folks who discover the music and muscadine wine emanating from Cypress Bend Vineyards, just outside of Wagram in Scotland County, NC.
From the Vineyard - Cypressbend Vineyards UNC-TV
M.D. News - A Special Carolinas Edition

PDF Link
OUR STATE- CELEBRATING NORTH CAROLINA

By: Bryan Mims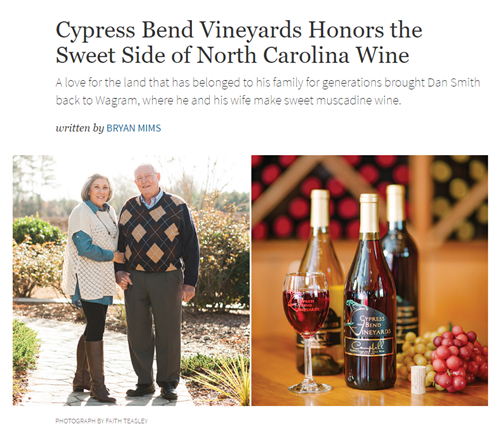 https://www.ourstate.com/cypress-bend-vineyards-honors-the-sweet-side-of-north-carolina-wine/
Beautiful place, friendly and educated staff... worth the visit.

Kelly B.